BitIRA | The Essential Guide to Digital IRAs
My BitIRA Platform: Take Your Digital IRA to the Next Level
Along with your new self-directed IRA, you'll receive access to the My BitIRA platform. This comprehensive set of tools gives you more power, more control and more options to manage your digital IRA investments.
Live trading: Trade assets 22 hours a day, 7 days a week in real time.
Triggered trades: Set up custom rules to create buy and sell orders automatically at price levels you specify.
Easy reporting: View balances, transactions, historical performance and everything you want to know, available at a glance.
The platform is connected to our exchange partner, the world-class broker for cryptocurrency trading.
Take a look at what your dashboard will look like: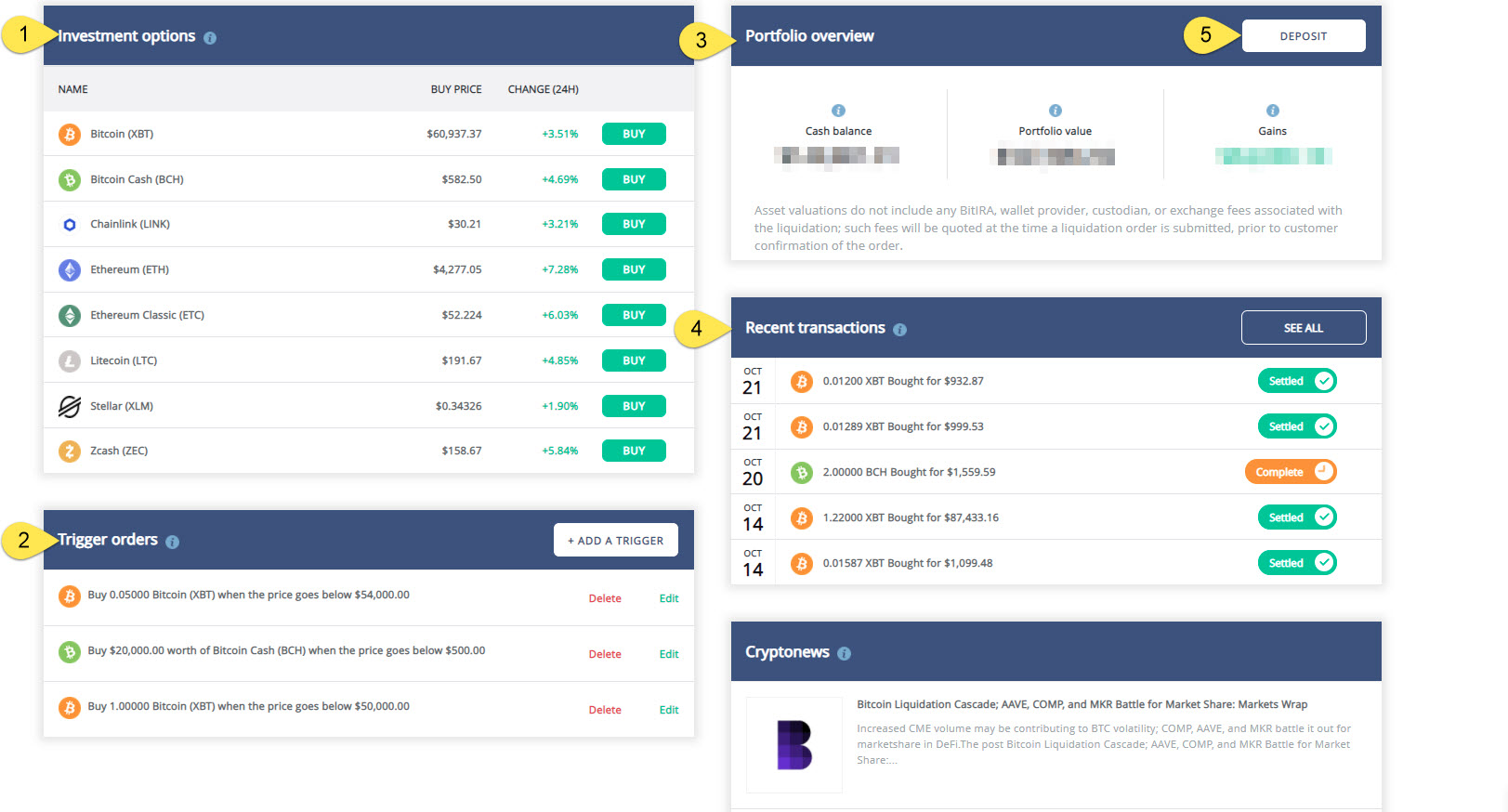 Investment options shows you all supported cryptocurrencies and real-time prices.
Trigger orders allows you to set custom rules to automatically create buy or sell orders at the price thresholds you specify.
Portfolio overview gives you a snapshot of your total cash balance, digital IRA value and gains.
Recent transactions summarizes your latest trades and their status.
Deposit lets you add funds to your digital IRA any time, day or night.
The new My BitIRA platform gives you more power, more control and more options than ever before! Most of all, it makes managing your digital IRA simple, intuitive and easier than ever before.
If you've been on the fence about opening your Digital IRA, especially if you've been worried that it's too complicated or time-consuming, this is great news. It's simply never been easier to diversify your retirement savings with cryptocurrencies.
In fact, this creates a potential problem: It's so easy to get started, we're concerned the "first-mover advantage" for investors and savers is fading fast…
"Paper money is going away."
"Bitcoin is solid compared to fiat money."
DISCLAIMER: The decision to purchase or sell virtual currencies (also known as "digital currencies" or "cryptocurrencies"), and which cryptocurrencies to purchase or sell, is ultimately your decision alone. Purchase and/or sale decisions are highly individual and must be a function of each customer's individual financial situation, goals, and risk tolerance. BitIRA is not a financial planner, investment advisor or retirement specialist. BitIRA is not responsible for your decision to purchase or sell digital currencies, or the timing or results of any such act (or failure to act). Any and all assistance BitIRA may offer or provide does not create a fiduciary relationship between you and BitIRA. Any and all purchases and sales are made subject to your own research, prudence, and judgment. BitIRA does not provide tax, investment, financial planning, retirement-specific, or legal advisory services and no one associated with BitIRA is authorized to render any such advice or service. BitIRA is not responsible for any consequences of you purchasing cryptocurrencies for IRAs, trusts or other persons or entities, or for any changes in the laws relating to such purchases or sales. Any written or oral statements by BitIRA, its principals, agents, or representatives, relating to future events constitute opinions only, and are not representations of fact.